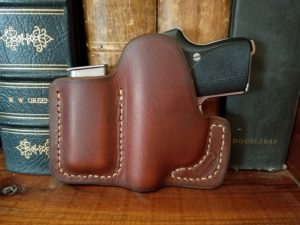 Just received the holster today for my Seecamp.  Can't thank you enough for both the prompt service and the quality of your work product.  I've been carrying a Seecamp for over 10 years and am a regular on their website.  I've purchased multiples of the Meco's, Del Fatti's, Powells etc. but have never had a holster that felt so blasted good in my hands as the one you made for me.  The gun slides into the holster smooth and easy and I have no doubt it'll result in much less wear than the ones listed above.  This will certainly not be my last Jackson Holster, I just have to decide who in the safe gets the next one, and the next one…..
Again, many thanks!  You just blew away an very picky customer, that doesn't happen very often!
-Bruce L., Springfield, Mo.