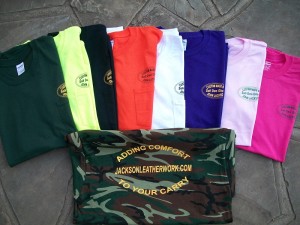 Our T Shirts are a big hit!  We have a variety of colors and sizes for men and ladies and a few for the little ones.
New color choices: Bright Pink w/Green Print, Pale Pink w/Green print, black/w Yellow print, Woodland Camo/w yellow print, Purple w/ Yellow print, Orange w/black, White w /Black, Forrest Green w/ Yellow, Safety Yellow w/black.
Sizes:  S, M, Lg, XLg
Material: 100% Cotton Mens, Blended Cotton/Poly for the Women.