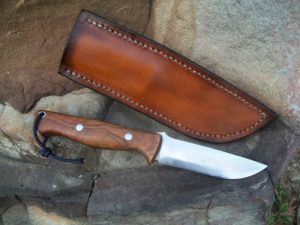 For those of you who might be interested in purchasing a Bark River knife, please contact me for an excellent price on the knife + a custom knife sheath !   or if you want to buy just the knifes, let me know what you are looking for and maybe we can work out a deal.
If you would like to see what Bark River has to offer, go to their website at : http://www.barkriverknifetool.com/index.html      or  Knives Ship Free,  http://www.knivesshipfree.com/index.php?cPath=465
Then, with your purchase list, contact me through my "Request a quote" or just send me an email and I'll be happy to work with you!
I have made knife sheaths for:  Fox River, Gunny, City knife, Little Creek, Woodland Special, Highland Special and the T.U.S.K.
Thanks,
John Jackson, maker