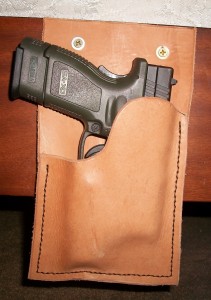 This is a custom handmade holster for your bedside pistol.  Rather than having it in a drawer have it holstered and attached to your bed for permant placement, quick access, and hidden when the bed it made under the bed covers.
The Leather backing is made with "second" quality skirting from whole sides.  It is a heavy weight leather but not top shelf leather… It is not perfect leather.  This way I keep my / your cost down.
I get the dimensions of the pistol and allow for a generous fitting.  The top of the backing is long to extend beyond the grip and attach to the frame.  Single holds are punched for wood frames and double holes on each side for metal frames.  Use a zip tie to attach to metal frame.